by Sandeep Godiyal, fitness coach, 22 June 2013
You are way ahead of the game if you knew in the beginning your child will eat whatever you give him/her as long as you don't "make a face" while feeding the child.
Kids learn to be picky eaters at an early age.
The problem is if your little ones balk at anything green, the odds are they're not getting the nutrition they need. Camouflaging food takes a little kitchen finesse, but you're covered if you utilize these proven tricks of the trade: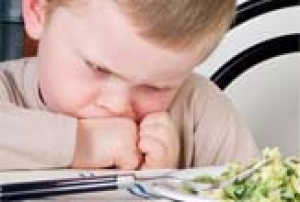 RESHAPE THEIR FOOD
Do your children turn up their noses at the sight of fresh fruit and vegetables? Make them look twice with fun-shaped alternatives. Use a cookie cutter or knife to rework watermelon, apples, carrots and other nutrient-rich foods into shapes your children will love. Create entire figurines by using different shapes of fruits and veggies to assemble fun characters. Foods cut into fun shapes help them appear more inviting to youngsters and increase the chance that those foods will end up in their mouths. If they are creative, let them create their own figures (monsters). You might find them snacking as they proceed with their works of art.
BE A BLENDER
Blend the nutrient-rich foods your kids usually snub into smoothies, shakes, popsicles and other fun treats. Apples, bananas and other fruits can easily be pureed into pulp and juices that can then be frozen into delicious popsicles. Blend a mixture of fruits, vegetables and protein powder into smoothies the youngsters will savor until the final drop. From veggie-rich sauces to nutrient-packed drinks, blending the foods your kids despise into meals they love is a cinch.
SUBSTITUTE INGREDIENTS
Do your children love macaroni and cheese? Give them what they love without processed ingredients by making the meal from scratch at home. Whole wheat pasta, real cheese and whole milk blend to create delicious homemade mac and cheese that your kids are sure to prefer to the boxed stuff.
ONE SMALL HINT: If you kids are used to processed, it may take a bit more cheese and salt to adapt a change in their taste buds. Don't cave in if they don't react positively at first to any "made from scratch" meals. In the end, they will learn to like them as much as processed and you will have healthier children.
REMAKE SWEETS
When children see a cookie, they most often associate that cookie with being sweet and delicious. Little do they know that cookies can be both delicious and nutritious. Start replacing a portion of the fat content in cookies, cakes and other sweets with applesauce. Fruit juices, natural sugars and other sweeteners are effective replacements for refined sugar. Zucchini and other nutrient-rich foods can even be shredded and added to your kids' favorite baked goods without them being any the wiser.
ONE MORE SMALL HINT: The eagle-eyed child may pick up on the zucchini shreds, so be prepared to invent a story that directs the child to the taste and away from the looks of the food. After all, food processors are masters at making food look and taste good. The problem here is that they also have made the food as addictive as possible for young (and old) palates.
MAKE IT A BREAKFAST AFFAIR
Breakfast is often when kids are the hungriest and groggiest. Capitalize on this time of day by hiding fruits and vegetables in their favorite breakfast items. Whip up a batch of blueberry pancakes lathered with pure maple syrup (not the processed kind) or bake some whole wheat muffins.
As your kids chow down on those wholesome breakfasts, they will be starting out with the energy to power their brains throughout the day.
Okay, so it won't be all that easy, and sure, you know your kids better than anyone. What's more, you will have to shop carefully to find natural, fresh foods plus cook and bake which takes time out of an already busy day.
The alternative is the time you will take out of your busy day to speak with the teacher about your child's behavior or lack of attention in class.
Consider the time you will spend consoling your child because he hasn't gotten along with the kids in the neighborhood or school and now, they won't play with him or her.
On top of that, think of the frustration you feel when the child just won't mind you, pouts or throws a tantrum. Yes, it could be a tired child, but the fact is poor nutrition contributes in a big way to a child's daily life, and it's almost always in a negative way. Good nutrition, on the other hand, contributes in a positive way, and isn't that we want for our children?
Sources: http://wellnessmama.com/8024/food-rules
http://www.kidfresh.com/nutrition
Please do not destroy all your hard work by using sugar substitutes like aspartame or Splenda. Honey and stevia are a couple of natural sugars, and fruit comes with its own sugar which is always nice. Read your labels carefully and don't allow yourself to buy any artificial or chemically-altered sugars